Returning to Ordinary Life / Volver a la Vida Ordinaria
Wednesday, May 18, 2022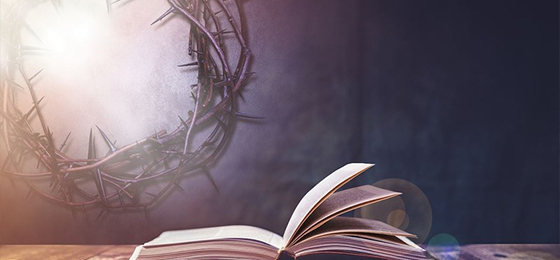 Six weeks into our Easter rejoicing, the Church gives us readings today that start preparing us for a return to ordinary life. The Acts of the Apostles and the Gospel both dwell on proper daily behavior for followers of Jesus, while the reading from Revelation reminds us why we bother with laws at all.
In Acts, leaders of the church meet to discuss which essential elements of the Mosaic Law converts must obey if they wish to be disciples of Jesus Christ. John's Gospel reflects back to the Last Supper discourse when Jesus himself emphasizes the importance of obeying God's commandments. Observing God's law, says Jesus, shows a desire to be intimate with the Lord. We follow rules not for their own sake, but to love God and neighbor better.
This more excellent love brings us closer to Revelation's vision of paradise, gleaming with "the splendor of God."
Prayer of the Week
Grant, almighty God,
that we may celebrate with heartfelt devotion these days of joy,
which we keep in honor of the risen Lord,
and that what we relive in remembrance
we may always hold to in what we do.
Through our Lord Jesus Christ, your Son,
who lives and reigns with you
in the unity of the Holy Spirit,
God, for ever and ever.
Reflection question:
How can I participate more fully at Mass?
Hacer Nuevas Todas Las Cosas
Seis semanas después de la celebración de la Pascua, la Iglesia nos da las lecturas de hoy que empiezan a prepararnos para regresar a la vida ordinaria. Tanto las del libro de los Hechos de los Apóstoles como el Evangelio se fijan en el comportamiento cotidiano de los seguidores de Jesús, mientras que la lectura del Apocalipsis nos recuerda por qué nos agobiamos por las leyes.
En los Hechos, los líderes de la Iglesia se reúnen para comentar qué elementos esenciales de la Ley de Moisés deben obedecer los conversos si desean ser discípulos de Jesucristo. El Evangelio de Juan se remota al discurso de la Última Cena, cuando el propio Jesús subraya la importancia de obedecer los mandamientos de Dios. Observar la ley de Dios, dice Jesús, muestra el deseo de intimar con el Señor. Seguimos las normas no por sí mismas, sino para amar mejor a Dios y al prójimo.
Este amor más excelente nos acerca a la visión del paraíso del libro del Apocalipsis, resplandeciente con "el esplendor de Dios".
Oración De La Semana
Dios todopoderoso, concédenos continuar celebrando con incansable amor estos días de tanta alegría en honor del Señor resucitado, y que los misterios que hemos venido conmemorando se manifiesten siempre en nuestras obras. Por nuestro Señor Jesucristo, tu Hijo, que vive y reina contigo en la unidad del Espíritu Santo y es Dios por los siglos de los siglos.
Pregunta de reflexión:
¿Cómo puedo participar más plenamente en la Misa?